Article posted on May 31, 2020
CPR During COVID-19

During COVID-19 many CPR training agencies are implementing strategies to help reduce the spread of COVID-19 when performing bystander CPR on someone in sudden cardiac arrest (SCA).
It's important to remember that approximately 80% of SCA occur at home, so you may be comfortable to perform CPR on a friend or family member without taking these additional precautions.
However, if you witness a SCA arrest it's important to act right away and begin the steps of CPR. Early CPR and defibrillation can increase someones chances of survival 2X! The Heart and Stroke has released simple modifications to include when performing bystander CPR on someone suspected of having COVID-19 that will reduce the risk of spreading the virus.
Click on the picture below to go to the PDF printable version.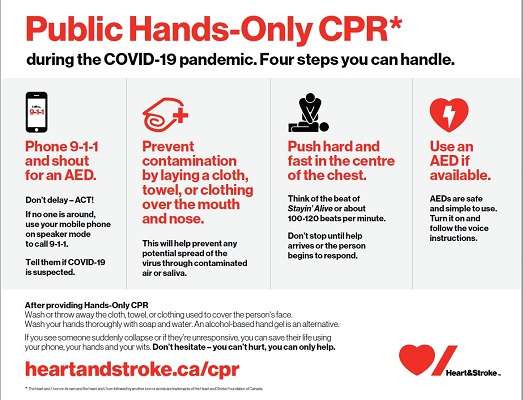 For more information on recommended CPR modifications during COVID-19 visit the Heart and Stroke Website HERE.

Last Updated: Sunday, May 31, 2020